Thank You
to Our Corporate Partners
$200 Kill Pen Rescue Mare, Ravens Silver Angel, Wins Three Congress Championship Titles
October 13th, 2016
Tweet
By: Brittany Bevis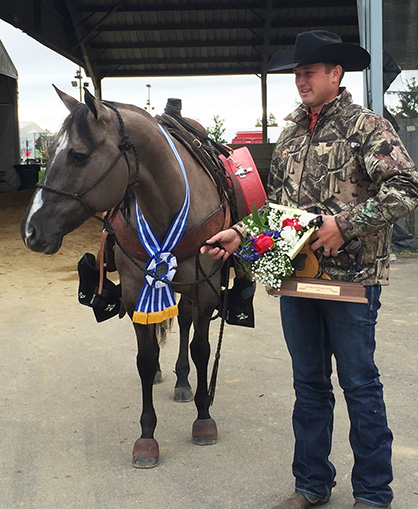 There's something to be said about the kind of horseman who can spot potential in the most unlikely of places. That's certainly the case with amateur roper and farrier, Drew Boies. However, years ago, when he bought a scrawny, grulla filly off the back of a kill truck for $200, he likely never imagined that one day she would become a three-time Congress Champion.
During this first week of competition at the 50th anniversary of the All American Quarter Horse Congress, Drew and Ravens Silver Angel were named the Congress Champions in Amateur Heeling and Amateur Breakaway Roping. The team was then invited back to the invitation only Amateur Cinch Rope Off, and they won that too!
Fresh off their three big win, we spoke with Drew's wife, Victoria, to find out more about the special mare they lovingly refer to as "Raven."
"Raven was indeed bought off a kill truck for $200," Victoria says. "She has been Reserve Congress Champion numerous times and received so many Top Tens here, but this year she finally got to be a Congress Champion. Raven is literally bred by nothing special. She is out of a dam called Skips and Raven and by the stallion, My Bar Pine. Neither have ever shown. What attracted my husband to her was how pretty she was with her rare, grulla color. Unfortunately, she made it onto the truck due to a breeder who could no longer feed her herd. My husband bought her as a yearling and has completely raised her and trained her himself."
When Drew isn't in the roping chute, he can be found working as a full-time farrier based out of Ocala, Florida. He practices four to five nights a week with his roping partner, Logan Edwards. Although Drew and Raven had been to the top at the Congress before, they weren't 100% sure they'd be attending this year due to a little bundle of joy that interrupted their summer horse show plans.
"Earlier this summer, we went to a rodeo, and our son, Bronc Dean, was born two months early!" she says. "Our families were amazing and took care of our farm in Ocala, because we were in Virginia because of this. We weren't sure we would make it up to the Congress again, but my husband really buckled down and did it!"
Victoria isn't just full of praise for her husband, but also for their kind-hearted mare. "She's an amazing mare that anybody can ride. Although, if you were to ask anybody who knows her, they would quickly tell you her favorite thing to do is eat! We've talked about taking her to the World Show, but my husband actually does this as a hobby. Maybe next year that will be our goal with her. Of course, she will retire at home with us and eventually give us some good babies. She's an amazing mare that constantly gives you everything she has. We're blessed to have her in our life. But, without a doubt, she's the laziest rope horse you've ever met!"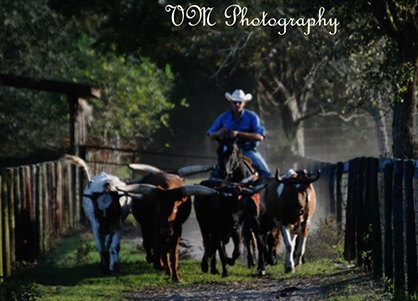 But it seems that Raven's lazy streak completely disappears when she enters the show pen. Her winning time with Drew in Breakway Roping was a 1.7.
"What truly makes this mare so amazing is that she can go to rodeos and horse shows," Victoria says. That really says something about a horse, as it's two completely different sets of things they look for when picking a horse to do events like that."
Congratulations to the Boies family and Raven on their big wins at the Quarter Horse Congress!